Waffles, fries, beer and chocolate. The perfect reference to our neighbor country, Belgium right? In this article we will tell you how to spend a week-end in Brussels, accessible with a direct train from Luxembourg-city. 
Must-see in Brussels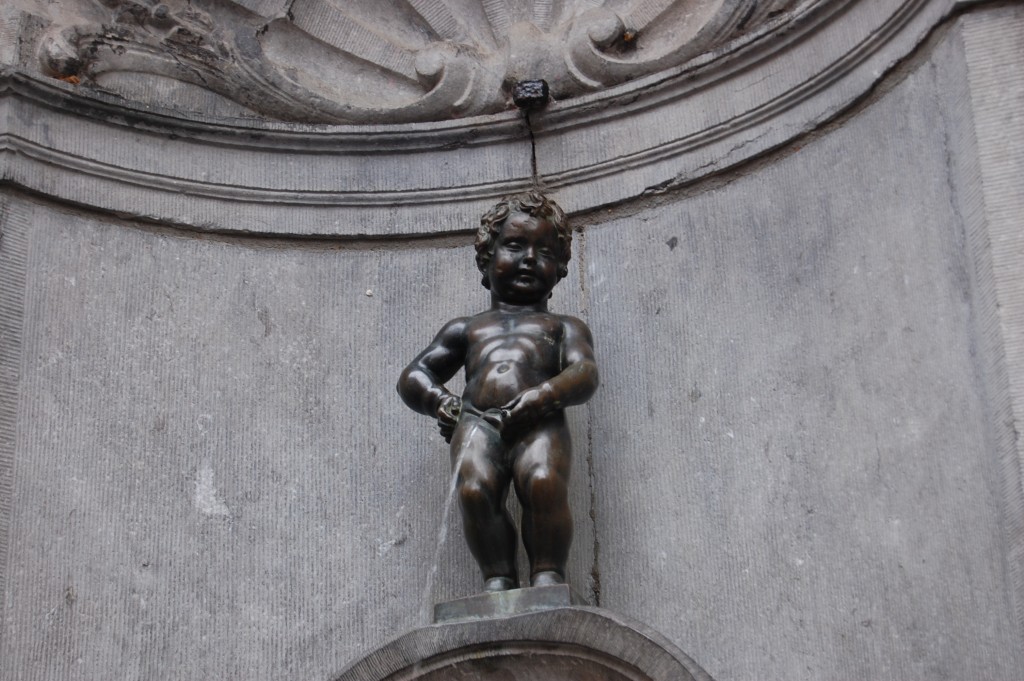 You can not go to Brussels without looking for the street with the Manneken Pis. A legend tells that this young boy saved the city by peeing by accident on the fuse of a bomb. If you want an additonal challenge, try to find his girlfriend, Jeanneke-Pis, also hiding in a tiny street of Brussels. Within walking distance from there, you will find the main Grand Place and the Chocolate Museum (this should also be a stop in your day!).
Depending on the period you will visit, the Grand Place of Brussels hosts different events such as a giant flower carpet, the enormous Christmas tree, sound and lights shows and even concerts.
After walking around the city center, walking through the Galeries Royales St-Hubert, passing by the Palace, the Mont des Arts, you can go in the direction of the Palace Of Justice with its famous forever ongoing reconstruction. We recommend you to go there around sunset time, the view over the lower and older part of the city looks beautiful!
At the end of the day, you can take a direct metro from there to the Atomium. This is the Symbol of Belgium since the 1958 universal exposition. It is very nice to see it by night, and you can even visit it inside! Finally, if you are looking for a good place for dinner, there is a restaurant as well in the Atomium, which has a breathtaking view of the city.
Luxembourg has an important place within the European Union so does Brussels, the home of the European parliament. If you are interested, you can book a visit to the parliament to better understand the work they are doing, or you can just go and walk around it.
Brussels also has a few of beautiful green areas such has the Parc du Cinquantenaire (where Stromae made the clip of Fils de joie), the Royal Park next to the Royal Museum of Fine Arts of Belgium and the Bois de la Cambre with a delicious restaurant in the middle of the lake called The Chalet Robinson.
If you are into plants and nature you can also visit the Botanical Museum and the beautiful Serre Royale in Laeken.
Shopping time!
If you are looking for some shopping, Brussels is full of places to shop and for all tastes! Besides the few shopping malls, there is several very known shopping streets: Avenue de la Toison d'or, Chaussée d'Ixelles, Avenue Louise and Rue Neuve.
If you are looking for more vintage shopping, there are also several thrift shops like Foxhole vintage or Episode.
Finally you can also go to the Brussels Vintage Market every first Sunday of the month not so far from the Royal Park. If  you know how to look for it, you will find unique pieces, guaranteed! 
Someone said food?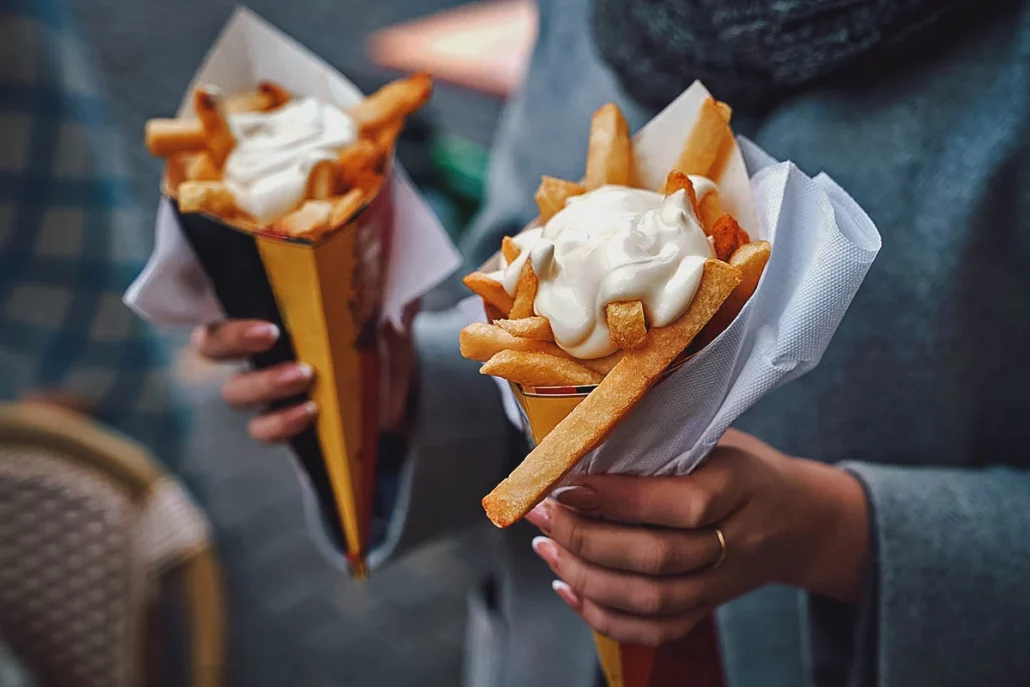 Our favorite part, of course! Brussels is a cosmopolitan city which means that you can find food for all tastes. But first thing first, you can not come to Brussels without grabbing a waffle from the foodtruck from the street or the Belgian (yes, it is not French) fries with mayonnaise.
As already mentioned earlier, The Chalet Robinson is a good restaurant in the Bois de la Cambre where they serve brunch formulas that are exquisite.
If you want to try one of our famous Belgian dishes such as mussels (from the north sea) or chicons gratin, we suggest you head up to Sainte-Catherine Square. The Mussel Mongers or any restaurants nearby will satisfy you. Nearby Place Jourdan and Flagey square, you can find some good places as well for dinner and for drinks.
If you are looking for some street food, there is a street called "la rue des pittas" with Greek and Turkish origins food.
Finally, if you want to buy the famous belgian chocolate as a souvenir, near the Manneken Pis is the perfect area for it.
Never too late to go party
After a good dinner, you should definitely go for at least one drink just to see the spirit of the city! Young folks, students and workers will be there cheering with friends  for sure 🙂
If you are in the area of Place Jourdan, the most famous bar is probably Café Belga, always crowded, with its red chairs terrace open all around the year.  Within walking distance from the Grand Place or Sainte-Catherine square, you can go to the Saint-Gery Halles,  a festive district in the city center with lots of bars and good music.
Furthermore, the Cemetery of Ixelles district, Luxembourg Square and the Flagey square are smaller versions of the Halles which are just as lively and crowded! 
Did you know that in Brussels they turned a church into a club? That's the Spirito club and you should definitely check it out, it's insane! You can find several other night clubs such as les "Jeux d'Hiver" , a famous place to be in the Bois de la Cambre and few other clubs around the Central Station. 
As winter times approaches, you should visit the Winter Wonders with the Christmas market located in the old center not so far from the Grand Place. 
As you may have understood, Brussels is a capital full of culture, a city that never sleeps where you will find museums for all tastes and other events such as concerts, art expositions and more! Find out what is happening now here.
We hope you will enjoy your week-end in Brussels, feel free to let us know in a comment which places you went to visit! 
https://www.furnished.lu/blog/wp-content/uploads/2022/11/Bx.jpg
1066
1600
Cindy Slugocki
https://www.furnished.lu/blog/wp-content/uploads/2018/04/furnished.png
Cindy Slugocki
2022-11-09 11:25:44
2022-11-09 11:28:08
A week-end in Brussels