You are soon arriving in Luxembourg and it's stressing you out? Don't worry, we have a solution for you: coliving. Get to know what it means before we tell you all about Furnished.lu!
you may ask, what does coliving mean exactly?
Coliving is a trend from the US which appears in the 80's on the west coast and migrated to Europe and Asia in the late 2000's. If you have ever watched an episode of Friends, you should actually have a good idea on how it works! We promise you, at furnished.lu it's less dramatic 😊 ("They don't know that we know they know we know.")
As a young new worker, you may think living in Luxembourg is actually really expensive. That's where the coliving is advantageous for you: you are able to split the cost of your living with others in the same situation as you!
Coliving is the concept of shared housing, with a global service of all-inclusive accommodation to residents called colivers: cleaning, maintenance, internet access, energy, insurance and so much more. It is almost like living in a hotel but you need to make your own bed, cook for yourself and sometimes be social with the people you live with.
The coliving is generally organized around places open to all like a well-equipped kitchen, relaxation areas and a private room for each tenant. Most of the time, the bathroom is also shared between the roommates.
Rent includes home insurance and the many services offered by shared housing. The advantage is also that the occupants do not suffer the constraints of the flat share such as the fights over household chores… Everyone enjoys their private space and services that make everyday life easier.
Plus, this way of living in community is a good way to fight loneliness, which an increasing number of people are suffering from in large cities and especially more after these quarantine times. In a country like Luxembourg, coliving can help people to meet various profiles of people, some similar and some different, which can be a base to create its own friendship circle later.
Now that you know what coliving is, you may wonder, why you should choose Furnished.lu services?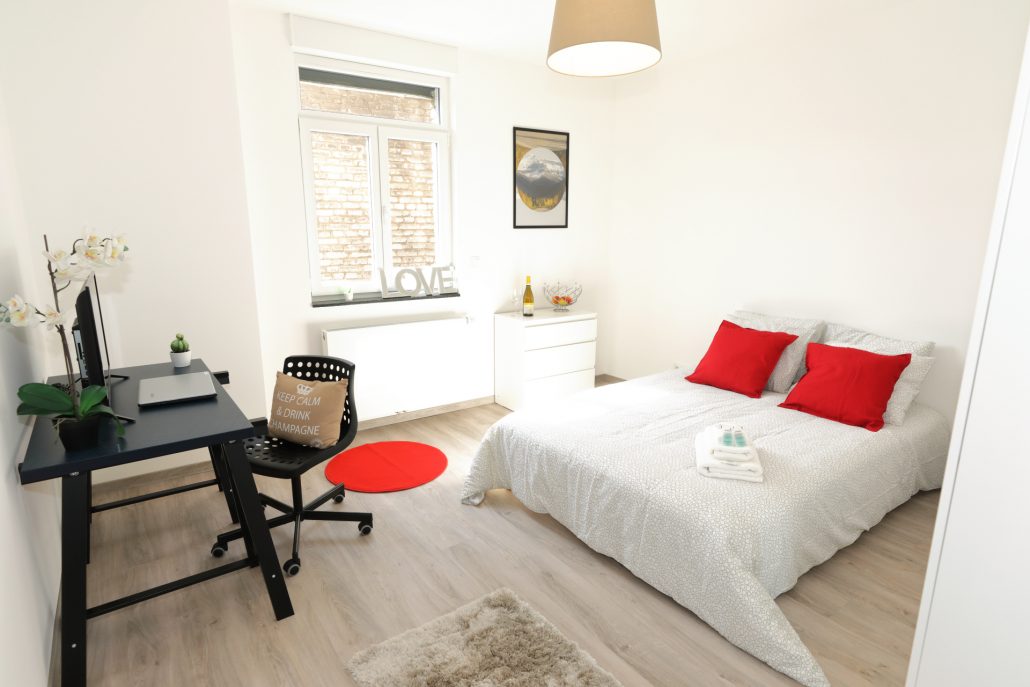 Because Furnished.lu proposes many rooms for different budgets. Our agency proposes comfortable furnished rooms in our residences with advantageous prices compared to the market. We help young workers and interns coming to Luxembourg with their search for the perfect place to live at low costs. The only condition required is a work contract in Luxembourg.
Our team will help you find the perfect room where you will feel at home. We will suggest you several furnished rooms in one of our residences according to your criterias and the availability of the rooms. What does that mean? It means that you will not need to stress about a pan you have forgot home or to buy a desk for your room because EVERYTHING IS ALREADY THERE! Also, coliving enjoys great flexibility. Leases are flexible and the duration of stay in coliving is between 2 weeks and 1 year.
In addition, Furnished.lu will help you accommodate easily with a few tips about shared housing via our monthly Newsletter or here on our blog so do not forget to check it regularly.
Our goal is to make you feel at home and help you with the transition to your new life and this is why our team is always available in case of any issue during your entire stay.
Our team of technicians and housekeepers work hard to make your stay with us a delight.
Pick a room, book it and Furnished.lu will do the rest to ease the process for you! So now relax, prepare your suitcase and see you very soon in Luxembourg 😊
Feel free to let us know in a comment what do you think about coliving in Luxembourg?
https://www.furnished.lu/blog/wp-content/uploads/2022/09/friends-blog-scaled.webp
1668
2560
Cindy Slugocki
https://www.furnished.lu/blog/wp-content/uploads/2018/04/furnished.png
Cindy Slugocki
2022-09-15 10:29:21
2022-09-15 16:31:34
Coliving in Luxembourg: What and Why?